Patriot park

St. Michael's Veterans Center Patriot Park is a unique community gathering place that will honor those who have served and provide a tranquil place of quiet reflection for all.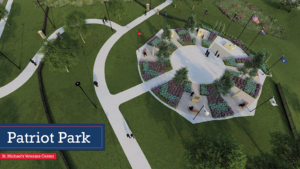 SMVC has worked with a local landscape design firm, its residents, and volunteers to capture the strength of our men and women who have served in the military. The park signifies what the military means for those brave souls and will honor each branch with its own section, including their branch flag, memorial monument, and bench.  Patriot Park will provide a feeling of strength and balance, and as you enter, you'll see the tall arborvitae standing proudly. Beds of perennial bushes and flowers will be planted in between sections honoring each military branch.
How You Can Get Involved with Patriot Park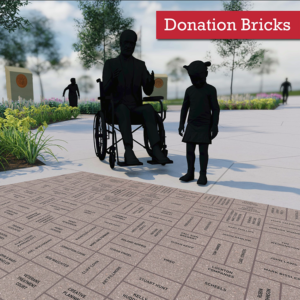 You can be part of this incredible project honoring all past, present, and future members of the military as well as their families. Since 2014, SMVC has provided affordable, permanent housing to over 250 veterans and their families. The Patriot Park is not just another way for the organization to recognize and honor the sacrifices our veterans have made, but to create a community gathering place for fellowship and strengthening our civic bonds. You can be part of this historic project that will unite our community and honor those who have served.
For a donation of $150 or $500 you will have a memorial brick with your name on it included in the garden. There are other sponsor opportunities, including sponsoring a monument, a bench, or a flag pole.
SMVC and our residents thank you for supporting our mission to eradicate homelessness among our Kansas City veterans by providing them with affordable and permanent housing.
In order to reserve your brick, fill out the form below, and in the message space indicate if you are mailing a check or using the red donate button to the right of this form. A member of our team will reach out to you to confirm the details. Thank you!
Checks can be mailed to:
St. Michael's Veterans Center
Attn: Patriot Park
3818 Chelsea Drive
Kansas City, MO 64128