Imagine for a minute that you work hard every day of your life. You build your dream house. You raise a family. You pay your bills. Then, you suddenly lose everything in a devastating house fire. While you're experiencing a significant health event.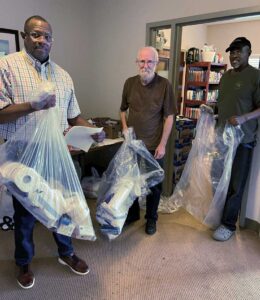 In 2021, there were 338,000 home fires, resulting in more than $8 billion in property damage. Behind those numbers are people. People like Anthony B. and his wife Barbara.
Anthony served the United States Navy on the USS Enterprise as a dental technician. He moved to Kansas City in 1966 where he built a life, a family and a home. One Sunday afternoon, he lost it all in a house fire. Thankfully Anthony, his wife and grandson escaped the fire unharmed, but they lost everything.
Anthony always took pride in running the business aspects of his home, including paying all of the bills. When he fell ill with COVID-19 and was hospitalized at the VA, the family's home insurance policy lapsed. At the time of the fire, the family did not have insurance.
For months following the fire, Anthony and his wife stayed with friends or in motels until his daughter found St. Michael's Veterans Center. She worked with the SMVC staff and got Anthony and his wife on the wait list for a home. In September 2022, Anthony and his wife were given the keys to their new home on the SMVC campus.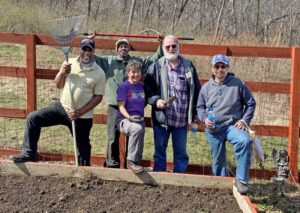 "My first impression was that the campus was well kept and our apartment was so spacious. We didn't have many things, but there is a lot of room for us to rebuild," said Anthony. "Everyone has been so welcoming to my wife and I and it's made me feel really good about moving here. The coffee shop is one of our favorite places. Everyone always has a smile on their face and they are always asking what they can do to help us. And they have really good pastries."
When asked what he would say to another veteran experiencing life challenges or homelessness, Anthony said," hold on and keep the faith. God is always on our side."
The SMVC campus is made up of residents who served their country and later experienced life challenges that resulted in homelessness or the inability to stay permanently housed. Without organizations like SMVC, these veterans would not know what it is like to have their own home, their independence and to live their life with dignity. Our community of SMVC supporters make it all possible and without you all we could not provide veterans with the support and services they need.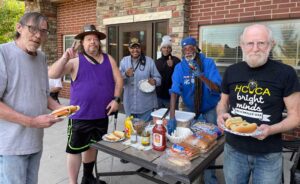 Please consider making a financial contribution to SMVC before the end of the year. Your donation is 100 percent tax deductible and will go directly to fund programs for SMVC veterans, as well as support the more than 100 veterans who are currently on the waiting list for housing. Thank you for your continued support and we look forward to celebrating with you at our annual Celebration of Heroes event on May 4, 2023.
Please Help With The SMVC Facebook Fundraising Challenge!
We are asking you to use the power of your social media to help fundraise for us. Please copy the text below and place it on your Facebook page. Thanks!
I'm asking my friends and family to support a cause that is important to me. SMVC not only provides permanent, affordable housing to homeless veterans in Kansas City, but they also provide important services like mental health support, addiction treatment, job support, and assistance navigating the complexity of the VA. My goal is to raise $300 for SMVC in honor of Veterans Day this year. I hope you'll join me in making a donation.