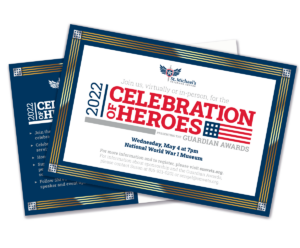 Join St. Michael's Veterans Center (SMVC) at the World War I Museum on Wednesday, May 4, 2022 for SMVC's Celebration of Heroes event.
The Celebration of Heroes event honors Kansas Citians who support veterans in our community.
Become a Celebration of Heroes Event Sponsor
Sponsorship not only helps fund SMVC and the event, but it also comes with incredible benefits that can range from premier seating and event tickets to printed recognition, exhibit space, and reception signage. Learn more about the levels and benefits by downloading the sponsorship packet.
Nominate an organization or individual for a Celebration of Heroes Guardian Award
The Guardian Awards shine a light on groups and people who go above and beyond to help the Kansas City veteran's community. Learn more about nominating deserving organizations and individuals by downloading the nomination packet.
2020 Celebration of Heroes Event
Did you miss the 2020 Celebration of Heroes? You can watch the recording to learn more about the St. Michael's Veterans Center community, hear from our supporters and residents, and honor individuals and organizations that work to make Kansas City a better place for veterans.